Is compression molding recommended? Three directions to take you in-depth understanding.
Is compression molding recommended? Three directions to take you in-depth understanding.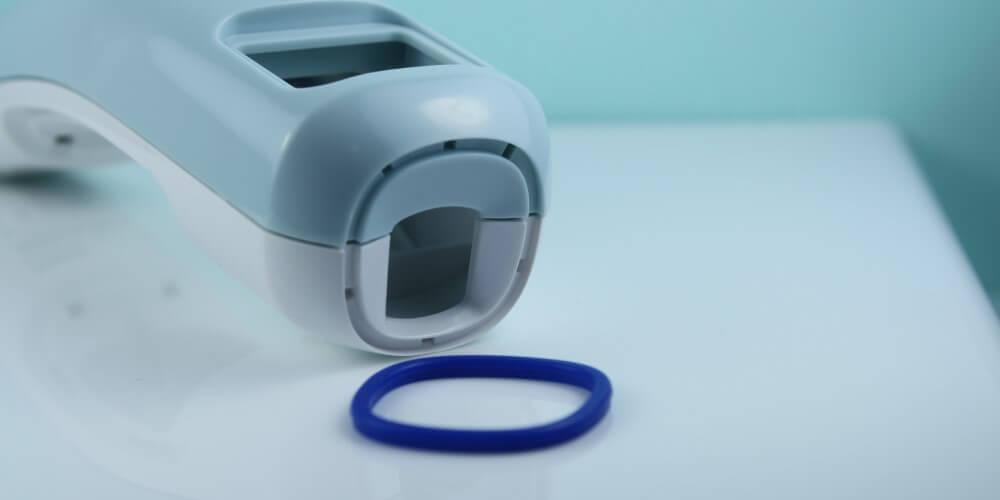 Silicone rubber molding can be divided into two types: injection molding and compression molding according to the precision; depending on the product characteristic, one molding method might be more suitable than another. For example, compression molding would be a good option for producing large quantity of rubber, silicone material products at low cost. In the following, we will introduce what compression molding is, sharing its upside and downside along with the corresponding applications.
What is compression molding? Let you know the pros and cons!
Compression Molding, also known as hot press molding, is one of the traditional molding techniques for silicone rubber industry. The principle of this method is not complicated, it can be imagined as the process of making egged shaped pancakes: To begin with, confirming the engineering drawing and material with the customer, then later heat and melt the raw ingredient, extruding it in the mold (same as pouring the batter in and close the pancake mold). Through heating and pressing process, a molded product can be obtained after the final cooling and solidification step. (Get the egged shaped pancakes!) With the benefits of low manufacturing cost and mass production at a fast speed, compression molding could be a proper choice for the factories with large scale needs! We have tidied up some bright side and dark side of compression molding below that would help you to better understand this technique and its usage.
Advantages
Owing to the advantage of lower equipment cost, batch production can be achieved by compression molding; thereby effectively reducing manufacturing costs. It can be used in silicone products with parting line burrs less than 0.25mm. In general, as long as it is neither an appearance part nor with high precision request, there is no need to apply much post-processing in molded products but only require slight deburring. On the other hand, the sprue and runner system does not exist in the compression molding equipment which leads to less raw material waste.
Disadvantages
Due to mold structure, it requests skills to fill the raw material completely into every angle of the mold cavity for compression molding; if the operator is unfamiliar with the operation, the product will come out with unfilled corners after demolding. Therefore, the technicians are required to possess professional knowledge and experience. Furthermore, the mold of compression molding is ideal for silicone rubber products with simple design or uncomplicated structure. If it is a product with many tiny holes, side design, or high dimension/precision demand, injection molding would be more recommended.
Compression Molding vs Injection Molding, which one to choose? Comparison of these two methods!
Injection molding is another way to make silicone rubber products apart from compression molding. It is mainly to insert the raw liquid silicone material into the mold through feeding system, then by the process of heating and shaping, the finished product can be obtained after cooling down. Injection molding attaches great importance to the mold; if the mold precision is not good enough, a large number of waste products may be produced. Hence, the cost of injection molding is relatively higher among all silicone rubber production methods. As for the question regarding the difference between compression molding and injection molding? And how to choose? You may find out in the below table.
Compression molding
Compression molding is mainly to place the processed raw material into the mold first, then applies high temperature and pressure to form them, and the finished product can be received after cooling. It can be applied in silicone keypads for various electronic devices such as remote controls, lining parts without appearance requirements like O-ring ,waterproof gasket , varied low-precision silicone products, silicone parts with multi-color processes, as well as big size/dimension silicone products, for example, jelly cases and dust cover, etc.
Injection molding
For injection molding, the raw liquid silicone material has to be inserted into the mold and the finished product will come out after heating process. At present, injection molding can be applied to products that require high transparency, for instance, optical products, water goggles and oxygen masks; it can also be used in high-precision parts, such as silicone rings of automotive lamp, medical equipment, medical silicone, etc.
〈Extension Reading: What is Two Shot Molding?〉
〈Extension Reading: Liquid Injection Molding (LIM) VS Compression Molding; what fits you best?〉
Comparison of compression molding and injection molding
Compression Molding
Injection Molding
Principle of processing
Place the raw material into the mold and form it under high-temperature and high-pressure.
Inject the raw material into the mold for forming under high-pressure and high-temperature.
Advantages
Lower cost
Finished good with high stability
Suitable for large-scale production
Customized mold
Finished product with high precision
Product can apply more details/complex design.
Disadvantages
Lower precision
Less applicable in precise product.
Injection equipment is expensive.
Invest high R&D cost in mold.
In general, development cost is higher.
Application
Simple, durable product (such as keypad for electronic devices).
High-precision, customized products. (for example: medical silicone).
Where compression molding can be applied?
As mentioned above, compression molding can be widely used in silicone rubber industry. Let us now dig a little deeper into its application.
Rubber
Rubber is also a common raw material for compression molding. Rubber molding can not only make products with high flexibility, but also produce durable items by adjusting the formula and processing methods. Typical products include water pipes, brake lining, O-shaped rubber gaskets, oil seals and toys, etc., all of which can be produced with rubber by compression molding.
〈Extension Reading: What is the common elastomeric silicone? here is some tips you can't miss out.〉
Silicone Rubber
Silicone rubber has often been used in medical industry, baby care products since it is chemically safe, non-toxic and non-corrosive. And because of the rising of environmental awareness, it is more widely applied in eco-friendly tableware and cups than before as well. In addition to good elasticity and convenient for storage, silicone products can also achieve a better sealing effect, therefore, it is one of the common product raw materials. Products produced by compression molding include: keypad over-molding, electronic contact, O-shaped waterproof ring and other daily use items.
〈Extension Reading: What is platinum silicone and how safe it is?〉
Conclusion
Whether it is compression molding or injection molding, there are suitable products for each type. If you are looking for mass production and the product design is simple with less complicated, it is recommended to choose compression molding method. If you have difficulty to decide which type to use, GSUN has more than 30 years of experience in the silicone rubber industry, qualified by ISO 9001, ISO 14001, ISO13485, and IATF 16949. From tool manufacturing to shipment, we all complete in the house production process, which saving your time in cross-company communication and avoiding additional cost. If you have any OEM molding needs, welcome to
contact us
.