Compression Molded Products
Silicone Rubber Accessories
Compression Molded Products
Features

Low cost
Short lead-time
Mature production techniques
The flexible purchasing volume requirement
Description
Compression molding relies on compressive force and heat to form uncured rubber into the desired shape and size. The process involves enclosing a rubber preform—i.e., a set amount of rubber material—into the mold cavity. Within the mold, the material heats up and cures, which allows it to maintain its form even once it is removed from the mold.

Compared to other molding methods, compression molding holds a number of advantages. For example, it offers the lowest tool cost, fastest lead times, easiest prototyping stages, and broadest part size suitability. However, it is limited in the precision and complexity achievable in its parts; designs with complicated configuration or tight tolerance requirements are better suited for other molding methods.

Most molded rubber keypads are manufactured using a low-pressure compression molding process. Molded rubber keypads can a solid color or multi-color within the same layer of construction. The keytop surface can be achieved with screened silicone ink or laser etched on translucent silicone rubber that has been spray-painted with one or more colors.

The vast majority of silicone rubber keypads/parts are not rated for UL94 V0 flammability because the silicone rubber is somewhat flame retardant but does not meet stringent UL94 V0 requirements. UL94 V0 rating is available for silicone rubber but the raw material has to be customized with a certain amount of volume. Very few suppliers would use UL94 V0 material in order to save lead-time and stock pressure caused by huge MOQ. However, GSUN has such an option if you need it.

Front surfaces of the silicone rubber parts/parts can be coated with a wear-resistant coating similar to polyurethane(PU). Coating textures are gloss or matt. Other aesthetic surface treatments are available include silicone and epoxy coating.

Service of GSUN including all the silicone rubber accessories made by compression molding. According to different usage and request, we provide solutions and services of high quality such as o-ring, tubes, dust/waterproof plug, gasket, etc. The old techniques will never fade out.

Application
All kinds of keypads/push buttons, Anti-vibration grommets, Manifold grommets, Seals, Panel grommets, Refrigeration compressor grommet, Waterproof caps, plugs, Bushings, Vibration mounts, Bumpers, Silicone rubber bonded to metal
Rubber Compression Molding
Compression Molding is the original production method for molding rubber. It is ideal for low to medium production volumes and is a particularly useful molding process for molding gaskets, seals, O-rings, and large, bulky parts. It is a widely used, efficient, and economical production method for many products, particularly low production volumes of medium to large parts and higher cost materials.
Processes
Compression molding involves taking rubber compound or mixed raw material and making "pre-forms" that is close to the shape of the end product. These shapes are then loaded, typically by hand, into an open mold. The mold is closed, the rubber cured, and then de-molded.
Compression molding can be cost-effective if one or more of the following is true:
Limited budget for development cost
The quantity required is low
The cross-section of the part is very large and requires a long cure time
It has a Rubber to Metal Bonding application
Extreme material hardness is required
Larger Parts required - Our Molding Platen sizes range from 300mm x 300mm to 600mm x 580mm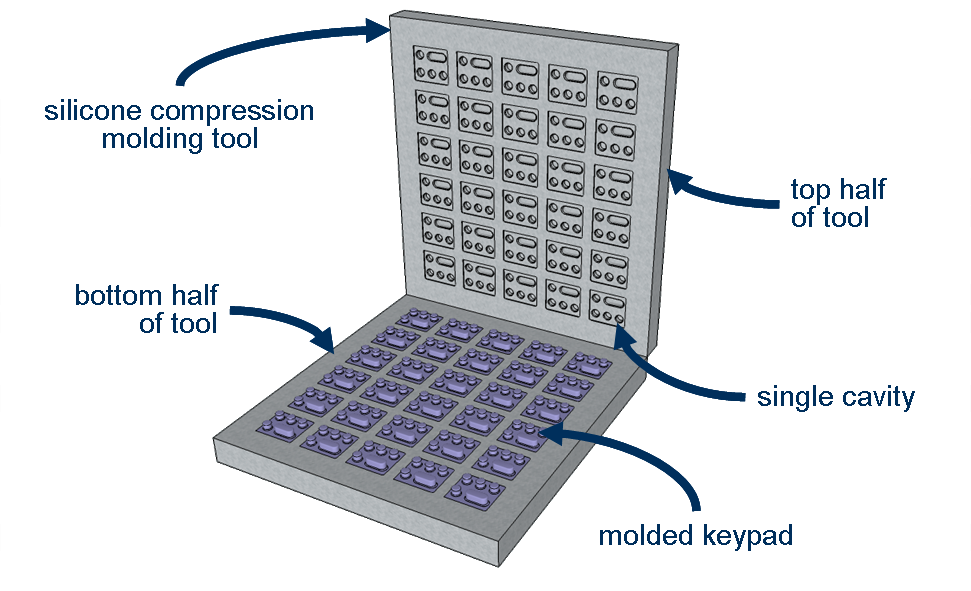 COMPRESSION MOLDING TECHNOLOGY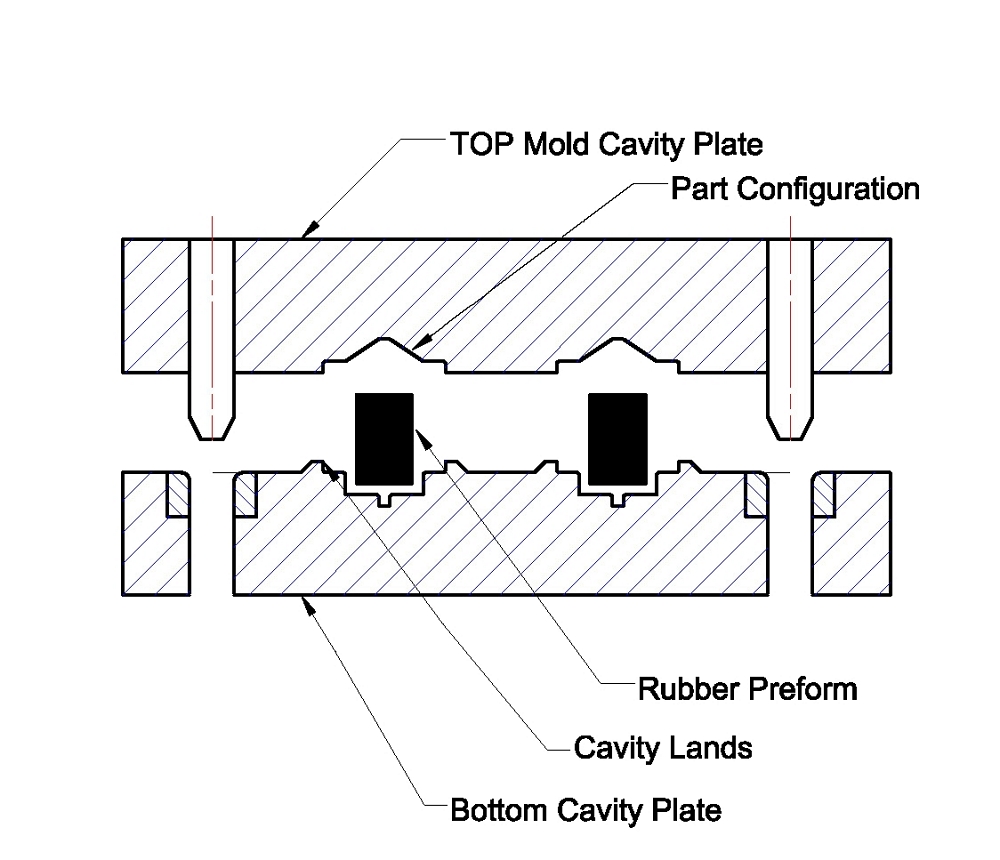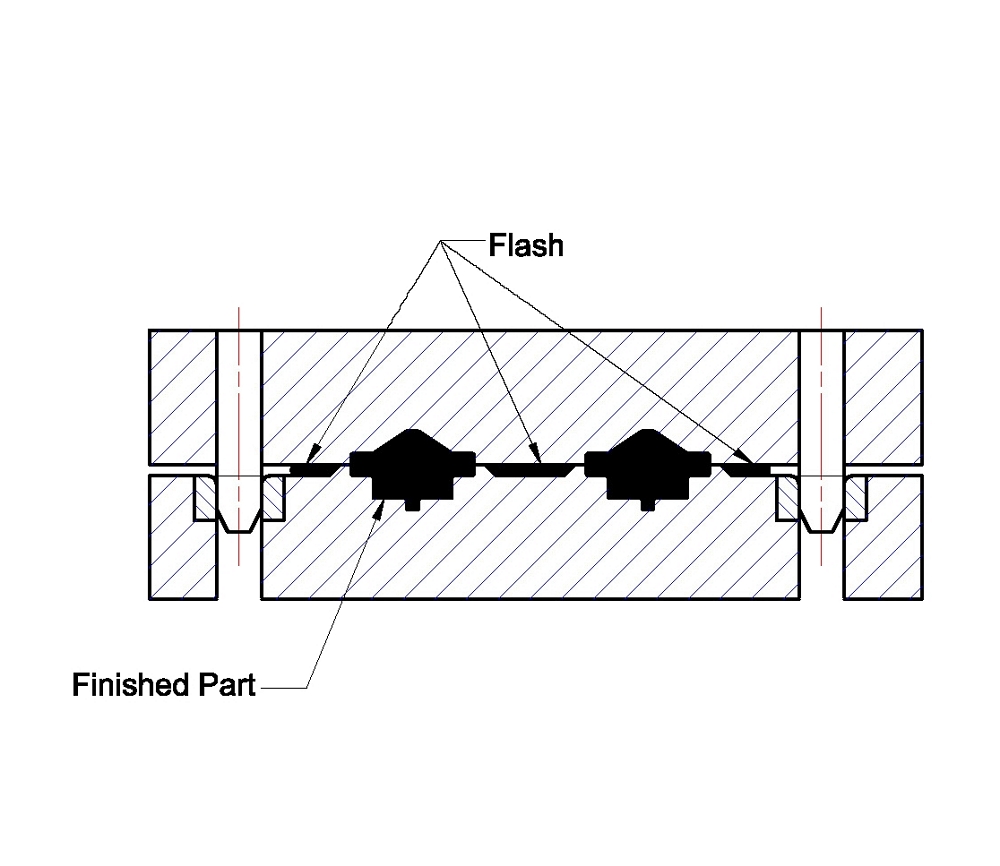 Compression Mold - CLOSED