Silicone Rubber Accessories
Rubber Seals | Gaskets
Features

Cost-efficient
Long lifespan
Lightweight and reusable
Will not cause structural damage
Easy to detect failure when gradually wear out
Endurable wide ranges of temperature, pressure, and tolerances
Description
O-rings are mechanical gaskets with a round cross-section. They are used to prevent gas and fluid leaks in static and dynamic applications and are manufactured from various types of elastomers. GSUN is specialized in all kinds of silicone rubber O-rings, seals, and gaskets which are non-toxic and compliant with environmental protection.

Application
From medical and automotive to aerospace and electronics, GSUN has created silicone sealing production to fit the most complex applications.

Contact Us to Discuss Your O-Ring Material and Size Requirements
As the leading designer and manufacturer of rubber parts and seals, GSUN has a wide range of customized products to meet all your sealing needs. From the vast o-ring of virtually any shape and size to our complex, custom sealing solutions, we have precisely what you need for any sealing application.
Rubber O rings are also commonly known as O-Rings. Most commonly they are shaped like a donut or flat ring rubber gasket, however, in addition to standard o rings, we make them suit our customers' applications in more complex cross-section shapes. The function of the O ring is to resist the entry or leakage of fluids or gases from joints. As such O-rings are one of the best sealing applications to prevent liquid or gaseous passage. GSUN is a leading rubber O-rings manufacturer in China/Taiwan.
If the traditional molded O-rings, seals aren't your solution, we are capable of injecting them on the enclosure to maximize the leakproofness!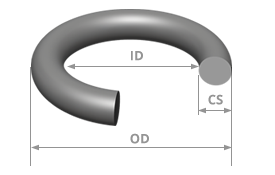 Outside Diameter (O.D.) is for reference only.
O-Rings are specified by Inside Diameter (I.D.) and Cross Section (C.S).